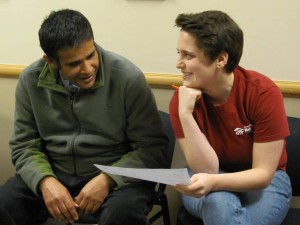 Puget Sound Networks' Case Management program partners staff with men and women living in the community to achieve personal goals using a strengths-oriented approach. Caseloads in this program are low and support is easily accessible 7 days a week.
Case managers ensure that clients in the program receive comprehensive, well-coordinated care that is easy to access, recovery oriented, and flexible to meet individuals' needs.  This includes regular assessment for co-occurring disorders and health issues. Sessions focus on helping clients learn about their mental illness/chemical dependency and developing strategies for recovery, such as learning relapse prevention skills, as well as developing basic life skills, such as budgeting, shopping and cooking. As soon as clients are ready or express interest in employment or school, case managers work with the vocational specialist to help support clients in reaching these goals.
Clients in the case management program are encouraged to take advantage of our drop-in center located in TRY house. Transitional Resources Activity Center (TRAC) offers a positive place to socialize with peers, develop more confidence, and foster skills necessary for recovery. TRAC is open 7 days a week to all agency clients looking for a safe and supportive environment.