HOPE
Looking at her today, it is hard to imagine that Stacey attempted suicide more than 20 times before coming to TR. She struggled with addiction issues while managing her severe depression and the voices she heard. Two years ago, she was in and out of the hospital six times. But all that has changed. Recently Stacey celebrated one year of sobriety and one year out of the hospital. "I wouldn't be clean and sober if it weren't for TR," Stacey says. "I have a lot to look forward to now." She recently moved into her own apartment and anticipates adopting a cat and starting to volunteer with the Salvation Army or Red Cross. Eventually, she'd like to get a part-time job.
OPPORTUNITY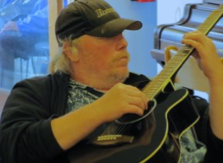 When we first met Mike, he was residing in the state hospital. After years living on the streets and cycling in and out of the hospital, he struggled to gain any stability. He needed a supportive place to live so he could begin rebuilding his life. With the help of Transitional Resources, he found that place, and has successfully lived independently in the community (with the support of TR staff) for over twelve years. Here at TR, he nurtured his musical talent during weekly music group and discovered a passion for gardening: he now helps lead a weekly organic gardening group, growing vegetables in TR plots and donating harvested food to the West Seattle Food Bank. He was recently hired to work at the Home Depot. When you meet Mike today and see the smile on his face, it's obvious that he is proud of his life and what he has accomplished.
RECOVERY

TR client and resident artist, Jenzo, discovered her passion for painting through TR's art group, led by art therapist and TR case manager, Lilith Halpe. Lilith encouraged Jenzo to submit one of her pieces to last year's King County Mental Health Poster Art Contest and…Jen won! The artist said this about her image: "Being creative and doing art is very healing for me. The words on the poster give me hope. In the past, the world has beat me up with trauma, abuse, homelessness, and addiction. The road to recovery is long, but it has my name on it. I'm proud to say I am resilient and recovering." Jenzo recently obtained her business license and is creating a business plan to sell her handmade cards.