The 15 men and woman who participate in the Intensive Congregate Care rehabilitative and residential program (ICCP), also called TRY House, are those with the most serious and persistent mental illnesses, who might otherwise be at high risk for institutionalization, homelessness, or incarceration.
Unlike other residential facilities, people living at TRY house maintain a cooperatively run household. With the close participation of 24-hour professional staff, residents shop, prepare three meals a day, keep the household clean and organized, and plan for and carry out community activities and outings.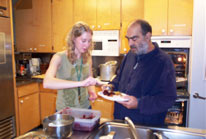 The clients and staff cooperate in making decisions to benefit the household so that everyone involved contributes to building an environment consistent with the value of shared responsibility. Along with household duties, residents are encouraged to participate in a wide range of groups and activities offered at TR.  They are also encouraged to seek employment, volunteer, or engage in educational opportunities through our vocational program. Most residents move into our supported living program following residential treatment.