UPCOMING EVENTS
Perfect Chaos: A Reading & Discussion to Support Transitional Resources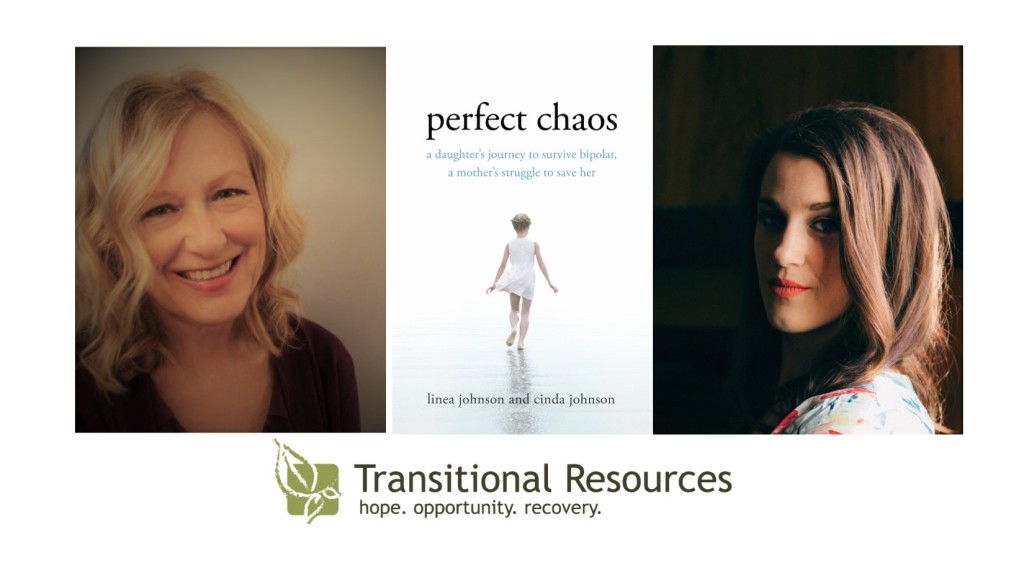 Mental illness is, for many of us, a familiar stranger. It has touched our lives and yet we struggle to understand it.
The most valuable asset in our community is a place that provides hope, opportunity and recovery for people who grapple with serious mental illness. Transitional Resources is that place for between 200 and 240 vulnerable individuals in Seattle. And for friends, family and loved ones, it's a critical community of support.
At a time when we find our social support networks at risk, it's ever more important to have candid conversations about mental illness and to support an organization like Transitional Resources.
Please join us for a special fundraising event, a reading by Cinda and Linea Johnson, authors of Perfect Chaos: A Daughter's Journey to Survive Bipolar, a Mother's Struggle to Save Her. Cinda and Linea will lead an intimate conversation, drawing from the experience chronicled in their book, to offer a glimpse into the disorienting turmoil that accompanies the onset of bi-polar disorder. There will be a Q&A with the authors, followed by an invitation to support Transitional Resources.
The reading will be held Sunday, May 7, from 4:00-5:30 pm in a most unique venue, Folio, The Seattle Athenaeum. To learn about the venue, visit www.folioseattle.org.
Registration for the event is free.
GiveBIG 2017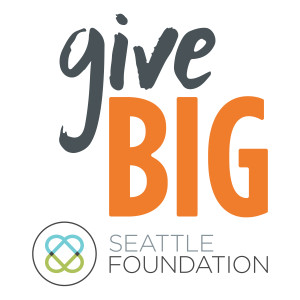 The Seattle Foundation's annual day of community giving is just around the corner! GiveBIG 2017 will be Wednesday, May 10. This special day of support for the Seattle area's nonprofits has made a huge impact on our work in recent years. We hope you will consider making a gift to TR. We have some amazing donors lined up to help us make your dollars go further with matching gifts, so stay tuned. Your impact will grow with a gift to TR on May 10! More info at www.givebigseattle.org/.
NAMIWalks Washington
Save the date for the 2017 NAMIWalks Washington! This year's walk will take place Saturday, June 3. You can join or support the TR Trekkers as we stamp out stigma and support our allies at NAMI. You can register or make a donation here.
---
PAST EVENTS
Annual Fall Dinner 2016
Thank you for helping us raise over $85,000 at our annual fall dinner, An Evening of Inspiration! Our community once again stood in support of better health, stable housing, and a system of support for people living with mental illness.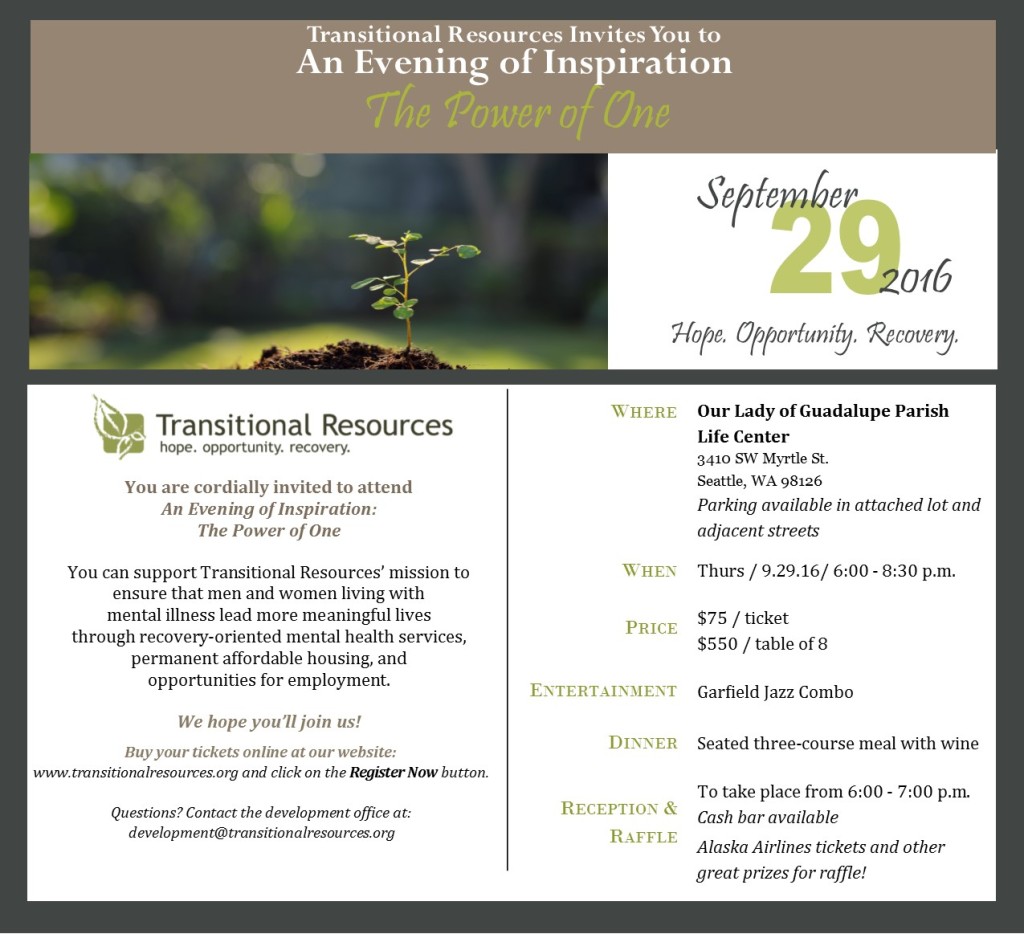 ---
GiveBIG 2016
Thank you for GivingBIG to Transitional Resources during the Seattle Foundation's community-wide day of giving. You helped us raise over $26,000 this year- far and away our biggest year ever! These funds will help us continue providing our critical services to our community's most vulnerable residents.
2016 NAMI Walk
Thanks for stepping out in support of NAMI and TR at the 2016 NAMIWalks Washington. The TR Trekkers came out in full force to stomp out stigma and raise crucial funds for our community ally, NAMI.